Looking for artwork for your Advent celebrations?
The four Sundays leading up to Christmas are perhaps the busiest time of the year for your church. The sheer number of events and activities requiring Christmas and Advent specific artwork can be overwhelming.
ChurchArt Online is your best source for Christmas and Advent bulletin covers, clip-art, graphics, illustrations, website images, photos, and bulletin templates. In our massive library, you will find thousands of images of faith and inspiration embedded with biblically based text to illustrate the joy of the season. ChurchArt Online is designed for anyone to use, from beginners to the experienced professional.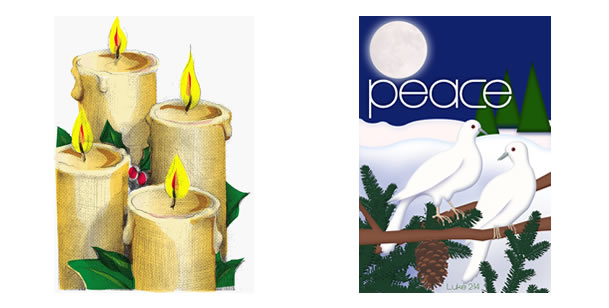 Advent artwork for all your worship media
We have ready-made professional artwork for everything you will need this Christmas season. There are bulletin covers for worship, Christmas Eve services, choir cantatas, and children's programs. You can advertise these events with our artwork on posters, postcards, newsletters, and advertisements in the newspaper. Dazzle newcomers with beautiful worship backgrounds, videos, and PowerPoint backgrounds. Images varying from inspirational photographs to lighthearted cartoons share a powerful message in a professional design. With our Coordinating Art Series you'll easily be able to create a unified look across all your communication channels. Your bulletins can match your Announcement slides which match the Sermon slides and the worship song backgrounds.
Start saving valuable time and money on the highest-quality artwork created for churches.
Use the Scripture Search or search by Keywords or Topics to find the exact image you need in seconds.
Gain access to the web's largest religious art library with special online Christmas and Easter art collections.
Find everything you need to produce eye-catching bulletin covers, newsletters, and announcements for weddings, baptisms, funerals and much, much more.