Enhance your publications with biblical clip-art.
Looking for some refreshing artwork to use for your church bulletins or newsletters? Feeling tired of the same old, same old? Look no further.
While ChurchArt Online is more than just a church art library, we guarantee that you'll easily find the art you need for any church event or occasion in a variety of styles including photos, PowerPoint slides, bulletin covers, professionally-produced graphics, motion videos and more! Everything is searchable by both Scripture and Topic, so you'll always have the perfect piece of artwork.
We offer a wide variety of features including newsletter, postcard and flyer templates, Online Church Calendar and church email services.
---
Find the right art for every occasion.
Anniversaries
Baptisms
Bible Studies
Births
Christmas
Church Camp
Communion
Conferences
Confirmation
Easter
Evangelism
Fall & Winter
Father's Day
Funeral
Graduation
Missions
Mother's Day
New Years
Patriotic Holidays
Pentecost
Praise
Prayer
Rallies
Sports Camps
Spring & Summer
Teen & Youth
Thanksgiving
Vacation Bible School
Weddings
---
Looking for biblical clip-art?
Look no further. We have hundreds of images to meet your every need. Biblically inspired clip-art can be used for so many things. Whether you are encouraging your members to read daily devotions, joining a study group or denoting that you are a Bible-believing church, you'll find the clip-art that you need in our vast library.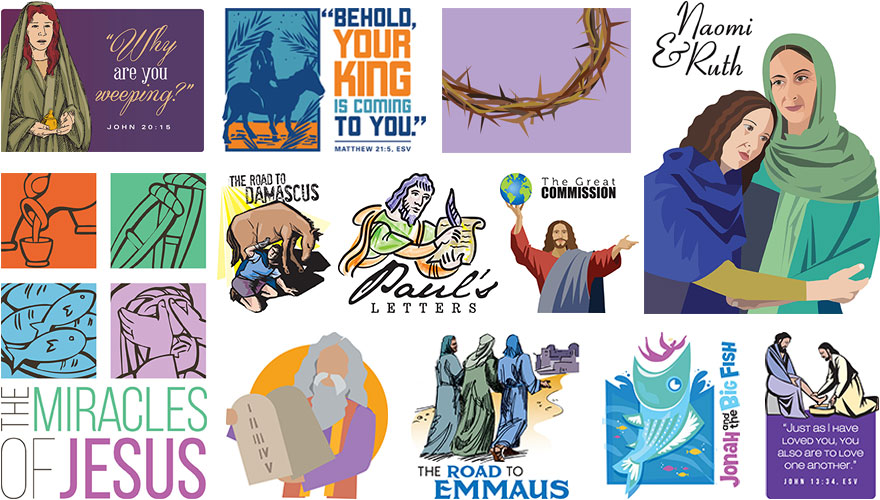 ---

14 Days Free. No Commitment. Really.
You'll just enjoy 14 FREE days of every feature — no catches.
We believe you'll be so delighted with ChurchArt.com that you'll want to become a member. Plus, we're sure we have a plan that fits your needs and budget ranging from $5.99 a month to $11.99 a month. Start your 14-day Free Trial today and begin downloading the perfect images immediately.