Looking for Professionally Designed Church Website Templates?
Looking for a professionally designed, beautiful, easy, and fast website solution that saves you time and money? You'll love our templates and NO hosting fee! You don't need a professional to customize our templates and installation is easy.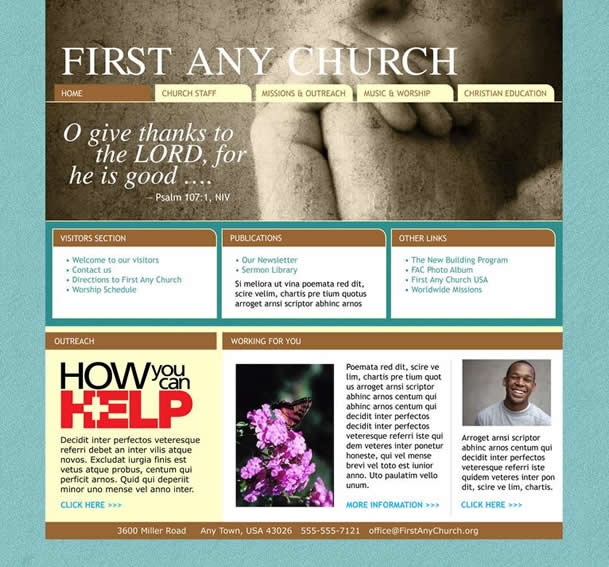 Customer-tested, professional templates that are easy to edit at a fraction of the cost.
Your church website is often your opportunity to make a good first impression. It is also a powerful communication tool for new and existing members.
Your church may not have the budget to hire a professional to design your site and that's where we can be of help. ChurchArt Online makes beautiful website templates affordable for growing ministries.
Our Church Website Templates are suitable for churches, Christian organizations and many non-profit websites in need of a visually appealing template that is easy to customize.
Whether your church wants to focus on fellowship, sermons, worship, family, outreach, missions or youth, you'll find a template that matches your requirements. All you need to do is to replace the mock content with your own. You will be up and running in no time!
Each website template is available for download as a .ZIP file. It contains a landing page and several supporting pages for events, groups and more. The template includes all the images you'll need and fully-editable HTML, ready for your church webmaster to customize and publish for your church.
Professionally developed website templates are usually priced from $30-$100 per template. Ours are included FREE with your membership to ChurchArt Pro.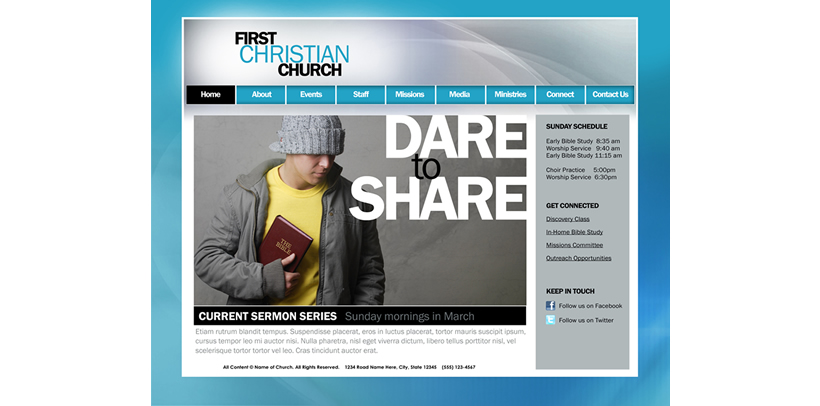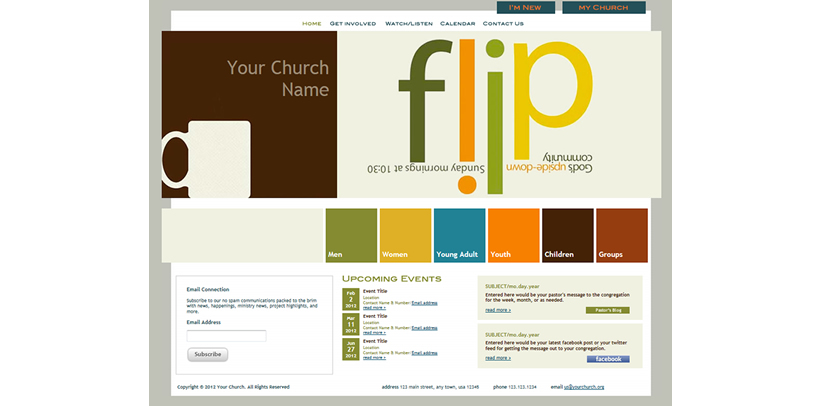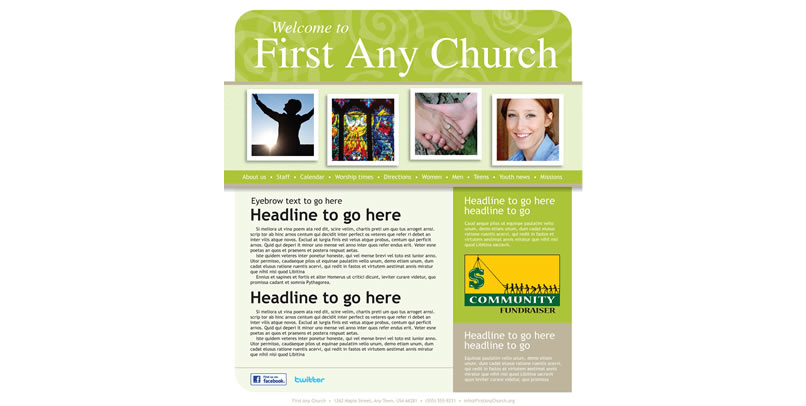 Adding images is easy.
A website is absolutely boring without pictures. You can almost double the wow factor of your church website just by adding pictures. This is probably the easiest way to make your website look professional.
Simply add your own photos or select one from our library, which contains thousands of church specific images and clip-art. Our growing library of website graphics gives you multiple options to customize your website. These powerful, custom graphics allow you to communicate your message clearly and attractively to your members.
Make your website impressive with our Interactive Online Calendar.
A lot goes on in the life of a church. What better way to keep it all organized and together than by adding a church calendar. Add a custom calendar to your church website in less than 10 minutes! It's simple to set up, simple to update and simple to customize.
---
Explore our art and image library absolutely FREE for 14 days - no catches. After you sign up for your Basic or Pro FREE Trial, you will have complete access to the content included with each membership. While a credit card is required when you sign up for the 14-Day FREE Trial, it will not be charged until the first business day following the end of your free trial.