Enhance your publications with
Religious Easter Clip-Art.
Easter clip-art will strengthen your publications by adding a visual that not only attracts their attention, but keeps them focused.
Your church members, visitors, students or parents will remember your message when it is framed with beautiful, coordinating clip-art.
Picture a colorful sunrise on your Easter Sunrise Service bulletin or clip-art depicting an Easter Pageant on your school program. Everyone enjoys visual enhancements to your publications.
---
Consider Our Wide Selection of Easter Clip-art.
Ascension Day
Crosses
Easter Borders
Easter Cantata
Easter Sunday
Egg Hunts for Kids
Last Supper
Lent
Lilies
Maundy Thursday
Palm Sunday
Sunrise Service
Pentecost
Praise
Prayer
Spring & Summer
---
Complete your publications with Easter clip-art.
Attractive artwork improves the quality of all your bulletins, newsletters, brochures, school programs or worship aids. Add professionally designed Easter clip-art to all your religious publications to accentuate the Easter message.
Our quick-search library allows you to easily find the professionally designed art you desire for all your Easter applications. Simply search by Scripture or Easter keywords to narrow the selection. Once you've decided on a picture, click on the format that you need for a fast download. Insert the graphics file in your document or PowerPoint Slides for a perfect presentation.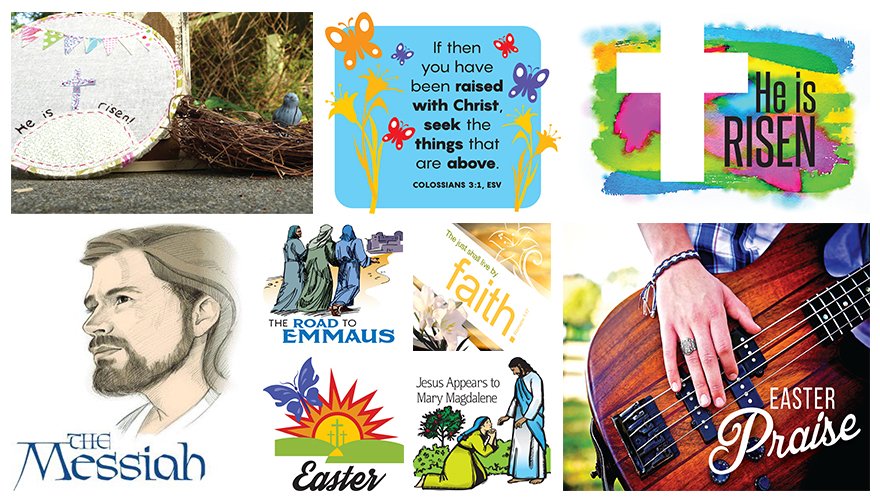 ---

14 Days Free. No Commitment. Really.
You'll just enjoy 14 FREE days of every feature — no catches.
We believe you'll be so delighted with ChurchArt.com that you'll want to become a member. Plus, we're sure we have a plan that fits your needs and budget ranging from $5.99 a month to $11.99 a month. Start your 14-day Free Trial today and begin downloading the perfect images immediately.