Enhance your publications with liturgy clip-art.
Adding clip-art based on the liturgy to your bulletins, newsletters, worship aids and school programs increases the quality of the publications. Our library of images is created by designers for a professional look. You will not only find artwork for the Gospels on a three-year cycle, but also for Sundays and solemnities.
---
Hundreds of Clip-Art categories available.
Advent
Baptisms
Bible Studies
Children's Day Programs
Christmas
Communion
Conferences
Confirmation
Creation
Crosses
Easter
Evangelism
Fall & Winter
Father's Day
Funeral
Graduation
Jesus
Leadership
Lent
Mother's Day
Music
New Years
Offering
Patriotic Holidays
Pentecost
Praise
Prayer
Scriptures
Small Group Meetings
Sports Camps
Spring & Summer
Teen & Youth
Thanksgiving
Vacation Bible School
---
Select liturgical clip-art and add personalized captions to reinforce your message.
Your clip-art can serve as a reminder of the season. For example, during Lent you could use the "What Are You Giving Up?" art. It shows a lot of ideas for the parishioner who hasn't decided yet.
Use our caption editor, free with your membership, to change the caption on any image in our library — even photos!
You will also find clip-art in appropriate colors for the church seasons like the Epiphany and Advent ones below.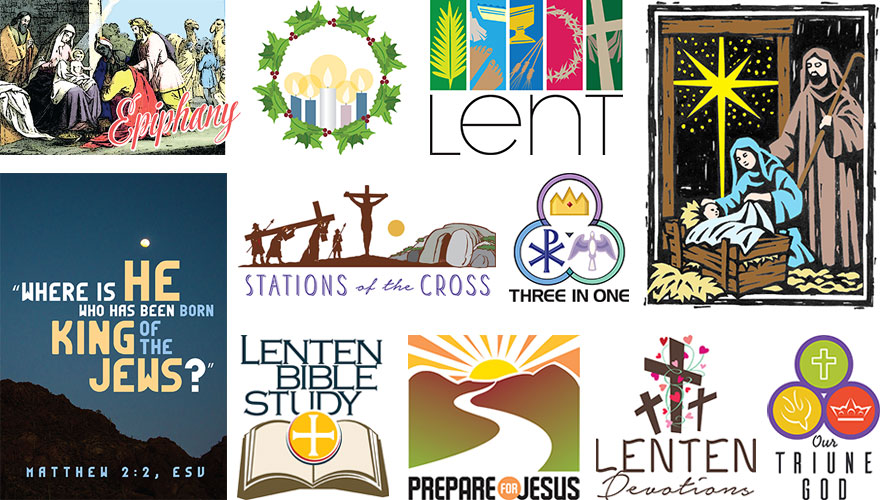 ---

14 Days Free. No Commitment. Really.
You'll just enjoy 14 FREE days of every feature — no catches.
We believe you'll be so delighted with ChurchArt.com that you'll want to become a member. Plus, we're sure we have a plan that fits your needs and budget ranging from $5.99 a month to $11.99 a month. Start your 14-day Free Trial today and begin downloading the perfect images immediately.